About Bettina Landgrafe
Madamfo is the Ghanaian word for friend.
Bettina Landgrafe came to Ghana almost 20 years ago. She is a registered pediatric nurse and tried to relieve the hardship by working in a small bush clinic.
Much of the population lives in great poverty. Many inhabitants are lacking even basic livelihoods, such as clean drinking water.
Our way of working is unique!
Helping people help themselves… is the guiding principle of Madamfo Ghana, and that is why we realize projects hand in hand with the villagers. The people are not being told what to improve and what to do first. Solutions are found jointly. Every project shall endure without the support of Madamfo Ghana and permanently improve the peoples' quality of life.
All affected groups are involved in the development of the project:
the inhabitants, as a target group, of the project;
the government, in the form of local decision-makers, such as local council and assembly  for the region;
and the employees of Madamfo Ghana, who then carry out the project in cooperation with the inhabitants.
The dedication, experience and reliability of our local staff, who are familiar with the language and cultural background of the people, is instrumental to the success of our work.
Since we are officially registered both in Germany (Madamfo Ghana e.V.) and in Ghana (Madamfo Ghana Foundation), we can receive as legal partners of the Ghanaian government both personnel and other funds, such as land for our projects.
This makes us extremely flexible in our interaction with the local authorities and of course it saves donations, because there are no follow-up costs, such as personnel costs for our schools, kindergartens and hospitals. Sustainability and help for self-help par excellence!
We have already been able to realize more than 80 projects, reach almost one million people through our educational programs, provide training or study for nearly 500 young people and enable countless people to undergo surgery or medical treatment.
1200 children receive a daily hot lunch through our school lunch program.
A fund supports specifically disabled children and through our emergency relief projects, we can save lives in acute situations!
With our reforestation programme in northern Ghana, we create income for the local population and counter rural exodus with hope. Climate protection and educational programmes for over 15,000 children round off the project.
We are very grateful for all this! Because without the help of the many sponsors and donors  our work would not be possible.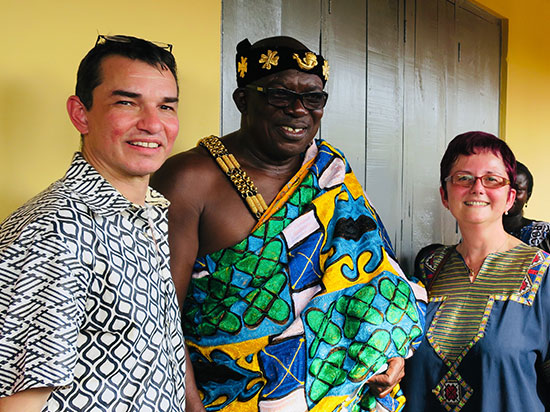 Testimonial by Helmut und Christine Fischer
"As enthusiastic travellers to Africa we wanted actively do something for the continent. After a long research on how and with whom we could put this into practice, we finally came across Madamfo Ghana e.V. Our ideas on how development aid should be delivered were fulfilled. In 2016 we were able to inaugurate "our" first school in Brahoho. Meanwhile, together with friends, we have been able to open a water project, another Kindergarten in Chichibon and, this year together with 2 other sponsors, a Child Recreational Center in Yamah. The work done by Madamfo Ghana on the ground is great and we have been able to see ourselves twice on site, how committed the staff is and how much the help is appreciated by the locals. We are very happy to be part of the Madamfo family and look forward to further projects. "
---
Project Summary
All bigger projects from 2001–2018