White Nana – My life in Africa
Bettina Landgrafe brings hope to Africa:
Ten years ago, the registered nurse from Hagen went to Ghana for the first time in order to work at a small bush clinic. She felt at home right from the start, but she did not know then that her stay would change the course of her entire life. She met sick people without any prospect of medical treatment, children that could not attend school and that did not have enough to eat, and she met women that fetched contaminated water for their families from polluted rivers.
White Nana – My Life for Africa
She could not forget the poverty and the hardship that the people had to suffer so she decided to help the people. Back in Germany, she established the association Madamfo Ghana e.V. – Freunde Ghanas. Today, her association builds schools and wells, offers children the opportunity of education, and develops self-help projects to enable the poorest of the poor to live a decent life. In her book, Bettina Landgrafe tells why the look in the eyes of these people matters more to her than anything she ever had in Germany. She also explains how and why she became a queen – the White Nana of an Ashanti village.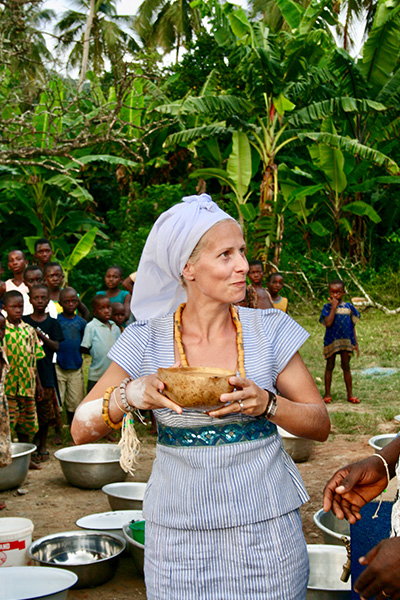 ORDER WHITE NANA ON AMAZON – Hardcover
ORDER WHITE NANA ON AMAZON – Softcover
---
WHITE NANA won the 2011 Readers' Choice Award in the category "Best Books"
"White Nana" has won the 2011 Readers' Choice Award in the category "Non-Fiction/Self-Help".
We want to say THANK YOU to everyone who voted for us!
---
Interview with Bettina Landgrafe
Publishing Group Droemer Knaur – Why does a Ghanaian ethnic group crown a German nurse as their queen?