Coronavirus – We help on the ground
to download:
The whole world is in an unprecedented state of emergency. The disease COVID-19, which is caused by the coronavirus, has already claimed many lives. We are all very worried and try to protect ourselves and our families. It is also an ordeal for many economically.
But to stop the spread of the virus throughout the world, we must work together. We are now particularly dependent on your help!
We will not abandon you – we will stay with you!
Of course, first of all we think of our relatives and friends during this time, but we appeal to you not to forget the people in the poorest regions of the world! If the virus spreads further, will have consequences of catastrophic proportions. In Ghana the emergency has already occurred – the virus has reached the villages.
While many organizations have withdrawn their staff from Ghana, we remain on the ground, because Madamfo means friend and we do not abandon our friends at this crucial time!
Our great advantage is, that we have always implemented our projects exclusively with local people. We are well networked throughout the country and can therefore react efficiently and effectively to unforeseen changes as quickly as possible. The health and administrative authorities know us very well and depend on our support.
Our projects – how do we continue?
Update 10.06.2020
Situation in the country
The curfew in force since Monday 30.03.2020 and the lockdown of Greater Accra with Tema, Kasoa and Greater Kumasi was lifted on 20.04.2020, despite increasing numbers of infected people.
The rules on social distance, the ban on gatherings etc. still apply to an exten, but it remains to be seen, how this can be implemented in the megacities Accra and Kumasi.
Unfortunately the emergency we feared has occurred – the virus has reached the villages in the interior of the country. We are very worried that the virus will now spread exponentially, due to the lifting of the curfew.
To prevent this, we are working around the clock with the local health authorities, to contain the spread of the virus.
Why is COVID-19 so dangerous for people in developing countries?
There is no functioning nationwide health system in Ghana. There is a lack of hospitals, equipment (there are almost no respirators, for comparison: Ghana 300, Germany 28.000) and medical staff. There are no adequate possibilities to test the people on the virus and even less to treat them properly. Poor families cannot afford health care.
There is a large number of people with severe and mostly untreated pre-existing conditions. Pneumonia and tuberculosis are widespread, as is HIV. There are also diseases such as malaria, typhoid fever and cholera.
The Upper West Region is also currently experiencing an outbreak of meningitis, with already 40 deaths within a few days.
What are we doing?
Prevention is the only way to save lives here!
In addition to our ongoing projects, we must intervene in a targeted manner, to prevent the further spread of the virus in Ghana. Only prevention can save lives here! We are urgently dependent on your donations!
Our Stop Ovid-19 Program:
Education and awareness campaign – Our trained staff (nurses and social workers) are on site and educate people about necessary hygiene measures, such as proper hand washing and the need for social distance. This can be done through radio campaigns, but also through cars that have a loudspeaker system on the roof. In this way information announcements can be played with the necessary social distance.
Provision of:


Providing Veronica bucket kits (bucket sets for washing hands with running water and soap) to enable people to implement the hygiene recommendations in the first place is acutely the only solution to prevent the pandemic from progressing!


25,00€ for one set


——————————


Disinfectant for hand and surface disinfection



30,00€ for 5l disinfectant


——————————


PPE (Personal protective equipment) such as face masks and gloves


1,00€ per set (face mask, gloves)


——————————

Infrared thermometer for diagnostics while maintaining distance



200,00€ per thermometer
Through our fundraising campaign we have been able to reach 10 districts so far and, among other things, we have been able to provide:
– 350 Veronica bucket kits (hand washing devices) with soap,
– 300 litres of disinfectant,
– 30 large boxes of paper towels,
– 20.000 Protective masks
– 400 face-shields
– 300.000 gloves
– 6 pulse oximeter
– 6 Infrared-thermometers.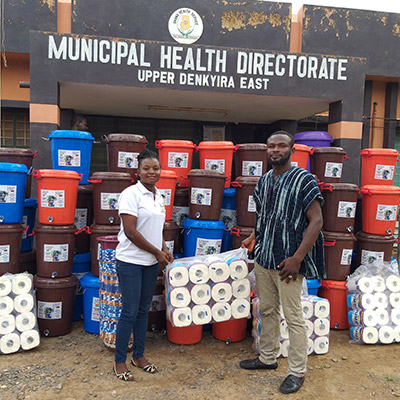 The rapid implementation of the project is guaranteed by our 10 years of experience, gained e.g. in our campaign to reduce mother/child mortality and other hygiene campaigns!
You do not support any exaggerated administration here, who needs weeks to act! We respond and react – targeted and immediately!
Situation in the project areas
Especially in the health and hygiene sector, the projects are completed as quickly as possible. These include the clinics in the Tain District, the water supply for Atebubu, the WASH project for Kabile, Abono school wash project
and the mechanized Esreso waterproject.
Works that can be done by individual employees, such as painting, laying tiles, plumbing etc., will continue.
The participation of the villagers with communal labour is currently suspended, because even in Ghana, accumulations of large crowds are currently prohibited and we do not want to expose the villagers to any health risks.
Please help us with a donation in order to reach as many people as possible and thus contain the spread of the virus in Ghana.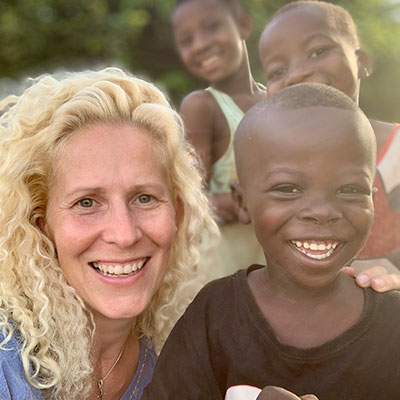 How is my godchild?
As of today, we are not aware of any cases of COVID-19 disease in our godchildren and their families. Schools and kindergartens have also closed in Ghana. The children are either in our shelter or at home with their families. In the children's shelter in Ho the children learn in home schooling activities now.
Please note that letter writing is currently suspended. Our staff cannot visit the children in the different villages at the moment. Apart from the children in Ho, there will probably be no letters in the next few months. The same applies to the school report cards. We all do not know how long this exceptional situation will last. We ask for your understanding and will continue to inform you as best we can on this page and in our newsletters.
Right now we need your support even more than before, because with a child sponsorship you are promoting the health care and nutrition of the children in the long term.