Testimonials
Testimonial from Mr. Nardi, Managing Partner of Dr. Theiss Naturwaren
"We know and support Bettina Landgrafe and her association Madamfo Ghana e.V. since 10 years. We became aware of her in 2010, through a report in the programme "Stern TV".
First of all Dr. Theiss Naturwaren GmbH supported the abolition of child slaves at Lake Volta. By means of fish farming, the fishermen there were given an alternative source of income. The liberated children could live, play and grow up in a specially built children's shelter, according to their age in a protected environment. Another project was the financial support for the construction of four clinics in the Brong-Ahafo region, Tain District.
Currently our goal is to support Bettina's commitment to the containment of Covid-19 in Ghana.
Bettina's energy has inspired us since the first meeting! Her valuable work makes a better life possible for many people. She stands up for Ghana, all donations go directly to the aid projects. Madamfo means 'friend': that's how we are friends of Bettina and help her and her association so that further projects can become a reality."

Testimonial: The Fischer family – Helmut and Christine
"As travelers with a deep passion for Africa, we wanted to actively do something for the continent. After long and intense research for a partner to realise that, we finally found Madamfo Ghana e.V.. And here, our idea of how aid should be provided was met.
In 2016, we were able to inaugurate "our" first school in Brahoho. And since then, with the help of friends, we have been able to realise a water project and open another Kindergarten in Chichibon. With the help of two further patrons, a social centre in Yamah was built in 2019. Currently, we are supporting the project for the Kayayei in Kumasi.
The work of Madamfo Ghana is amazing. We were already able to see the commitment of the staff and how their help is appreciated by the locals for ourselves twice. And that is why we are proud to be a part of the Madamfo-familiy and we are excited about the projects, that will come in the future!"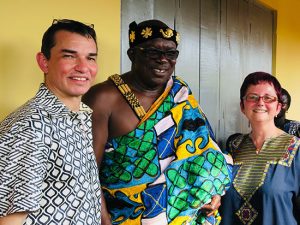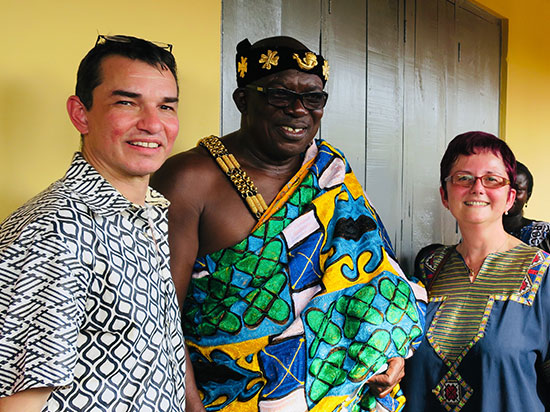 Testimonial from Uncutbread
We are incredibly happy to be able to support Madamfo Ghana, another great organisation, that has been working for many years for a better, healthier and more just life for the people of Ghana.
It is our goal to make a difference in the world and being able to support Bettina Landgrafe and her team in the future will take us one step further on this long road".
Anna Fink, founder uncutbread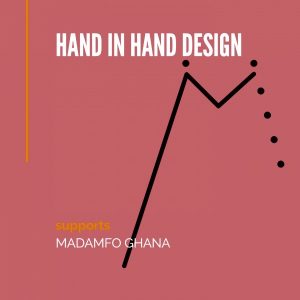 Testimonial from Monika Otten, Rotary Club Hemer
In 2007 I was looking for a project to support and my friend Gisbert drew my attention to the projects of Madamfo Ghana e.V. From this idea, a long lasting cooperation and friendship developed between the Rotary-Club Hemer and Bettina Landgrafe and her team. During a stay of several days in Ghana we could see for ourselves, how the basic idea of the association "help for self-help" is implemented together with the population.
Bettina showed us the beauty of her second home Ghana, convinced us completely of the idea of her work, but also opened our eyes to the problems and needs of the population. Together with her team we were able to realize a mechanised water project in Tafi Atome the following year. Together with the villagers, a sustainable water supply for the whole village was established, which we handed over, during a big celebration in the village.
For us, these moments, but also the valuable work of Bettina and her team will remain unforgettable, as they made a lasting impression on us with their actions. We are looking forward to the next reunion in Ghana and hopefully we will be able to start a joint project soon again."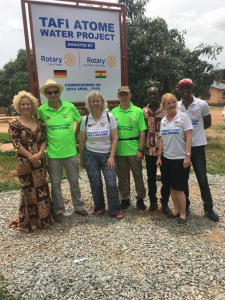 from left: Bettina Landgrafe, G. Harnischmacher, M. Otten, T. Penderok, Victor Manu, P. Harnischmacher