EMERGENCY AID FOR THE PORTER-WOMEN IN KUMASI
In the city of Kumasi live young women and girls whose only activity is to carry loads on their heads for traders and other customers.
Many of these young, little girls called "Kayayei" are between 8 and 18 years old. They have moved from the north of Ghana to the south, to work and to escape poverty.
But, they often leave one hell just to arrive in another.
Most of them are living under inhumane living conditions, victims of sexual violence, verbal and physical abuse and exploitation by their employers and customers.
Of the estimated 35,000 (60.000) Kayayei that are living in Kumasi, the most vulnerable are children (more than 10,000), adolescents and pregnant girls who sleep in front of shops, in run-down huts or on the streets.
Our project includes measures to reduce the precarious, dangerous and inhuman situation of the most vulnerable Kayayei.
For example:
access to basic health care, especially for babies and young children
prevention of unwanted pregnancies as a result of prostitution and rape;
creation of alternative services such as vocational training, counseling, affordable housing, family tracing and supported family reunification.
affordable housing
the search for families and supported family reunification
creating perspectives for staying in the home villages.
This is where our project "We sow the future – much more than just trees!" and the Beeproject come in.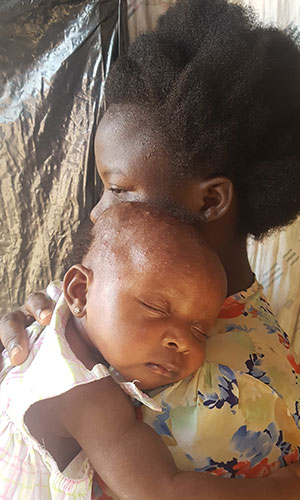 If you and your company would like to donate a larger amount to support this project, please contact our project manager Bettina Landgrafe directly: mail@madamfo-ghana.de
Please, help us with your donation to put an end to this abuse.
---
Location of the situation