Madamfo
is the Ghanaian word for friend
Our Vision:
A world without poverty, where everyone can meet their basic needs.
Our motto:
Do the right thing at the right time!
In order to work towards our vision of "A world without poverty", we focus on "helping people to help themselves".
Our great advantage is, that we have always realized our projects exclusively with local people. For a cooperation characterized by equality of all stakeholders and hand in hand.
Our employees are therefore familiar with the language and cultural background of the local people. Their commitment, experience and reliability makes a significant contribution to the success of our work.
Our project approach of involving the local population is the key to successful, long-term and sustainable project implementation. It also means, that we are well networked throughout the country and can respond efficiently and effectively to unforeseen changes as quickly as possible.
"Helping people to help themselves" is therefore the central point for successfully establishing projects in the long term.
All affected groups have to be involved in the development of the project:
the inhabitants as target group of the project
the government in the form of local decision-makers, such as local assembly, DCEs and representatives for the district and region
the staff of Madamfo Ghana, who implements the project in cooperation with the inhabitants
We do not impose on the people what is missing on site and what needs to be improved. Instead, we find a solution together with them. The goal of each of our projects is, that after a while it can exist without the assistance of Madamfo Ghana and that the quality of life of the people will improve permanently.
Bettina Manu-Landgrafe founded Madamfo Ghana almost 20 years ago, with her Ghanaian colleagues Victor Manu and Emmanuel Stephenson. Emmanuel unfortunately passed away some years ago.
Your donation does not take long bureaucratic or inefficient ways with us. You do not support an exaggerated administration, that needs several weeks to take a decision. We are directly on site and can act and react in a targeted, effective and immediate manner.
We are officially registered in Germany (Madamfo Ghana e. V.), as well as in Ghana (Madamfo Ghana Foundation). As a legal partner of the Ghanaian government, we can therefore obtain both personnel and other funding, such as land, for our projects.
This not only makes us particularly flexible in our interaction with the local authorities, but also saves on donations. After all, this eliminates various follow-up costs, such as personnel costs for our schools, kindergartens and hospitals. Sustainability and help for self-help the way it should be!
We too support the UN´s agenda 2030 and play our part in its implementation: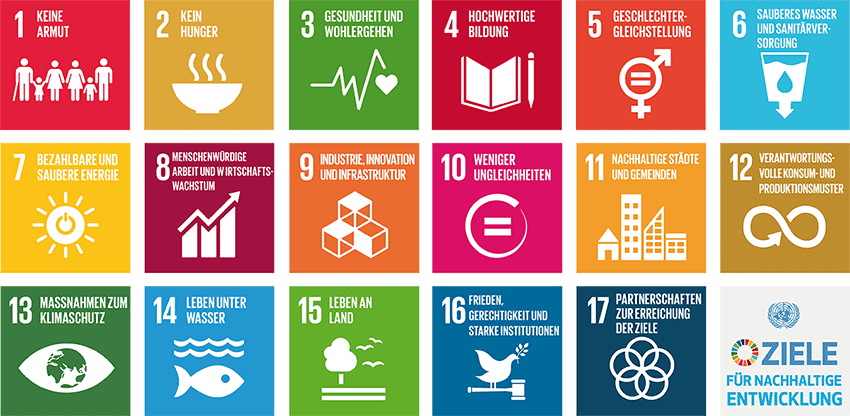 We are actively working towards the following goals:
1 – No poverty
2 – Not hungry
3 – Health and well-being
4 – High-quality education
5 – Gender equality
6 – Clean water and sanitation
7 – Affordable and clean energy
10 – Fewer inequalities
13 – Climate protection measures
16 – Peace, justice and strong institutions
17 – Partnerships to achieve the objectives